The Anarchic Writing workshop took place in the framework of AcrossRCA 2021 in the Royal College of Art. During this week, multiple student-led interdisciplinary collaborative projects explore new ideas, approaches and skills. This week, I had the opportunity to collaborate with a VisCom fellow student and friend, Mirna Marianovits, whose practice crosses similar pathways with my practice. We are both interested in different ways of writing and participatory activities.
We decided to create a 3-day workshop with the name Anarchic Writing, open to students across all the masters of RCA. This workshop aimed to investigate -through creative writing- ways of enforcing one's expressive skills and confidence regarding their ability to share a thought or a story by implementing verbal or alternative narrative tools through collaborative and individual activities. Each day was dedicated -respectively- to collective storytelling, asemic writing, and performative delivery of language.

Our intention was to introduce this workshop to the participants as a series of games -as fun activities- instead of a strictly academic workshop for developing their writing skills. The anarchic aspect of these sessions relates to the way we perceive writing; not only as a freeing process, but also as an expressive tool beyond formal communication. The overall workshop aimed at re-approaching writing, not as a medium for delivering specific information or a predetermined narrative, but as an existential sharing of emotions and experiences in the form of an interactive -dialogical- act. In this sense, writing could also exceed its conventional form by encompassing -in the sense of various depictions of words- texture, shapes, different layouts, gestures and other tangible and intangible expressions.
In this workshop, particularly on the second day, we focused on Asemic writing. I introduced them to three activities inspired by Asemic Writing practices and the main ideas behind its manifesto, open-meanings and co-authorship. All the activities took place in the Mural, a digital platform with useful tools for writing/drawing and a space that allows people to see other people's activity and interact with each other.
Activity 1:
Create your own Asemic writing
In the first activity, I asked the participants to do their own asemic writing. Everyone was free to do their own experiments for one hour and then share them with us (anonymously to have the freedom to express themselves as they want). The participants tried out different kinds of mediums & styles, discovering other ways of writing and communication. They commented that they found this process quite meditative and a way to connect with their body.

Activity 2:
Collectively create an Abstract Comic
In the second activity, they
collectively built
an abstract comic (a sequence like a storyboard/comic strip). The participants had to place their drawing next to another participant's drawing and continue the narrative. A unique experience, where they had to abandon the old conventional way of communication and build together something collectively only by using
asemic writing
and the
structure of a comic strip
. Everyone said that it was an enjoyable experience. It started a little random initially because they didn't quite understand what they were doing. Still, as they proceeded, they slowly started
weaving a narrative
together by connecting parts between them and creating an unstructured system.
Activity 3:
Write individually a story base on the collective Abstract Comic
In the final activity, they had to individually write a story based on the collective abstract comic that they made. Besides the creative writing aspect of this task, the purpose of this exercise was also to emphasise one of the critical aspects of asemic writing that the reader becomes the co-creator of the asemic work. Everyone gave their own unique interpretation of the story and shared it with the rest of us. It was so interesting to hear everyone's narrative. The variations of styles of each text indicated the different possible ways of seeing things and the unique voice of each person. With this last activity, I felt that we came even closer as a group since we shared something common and embraced our differences.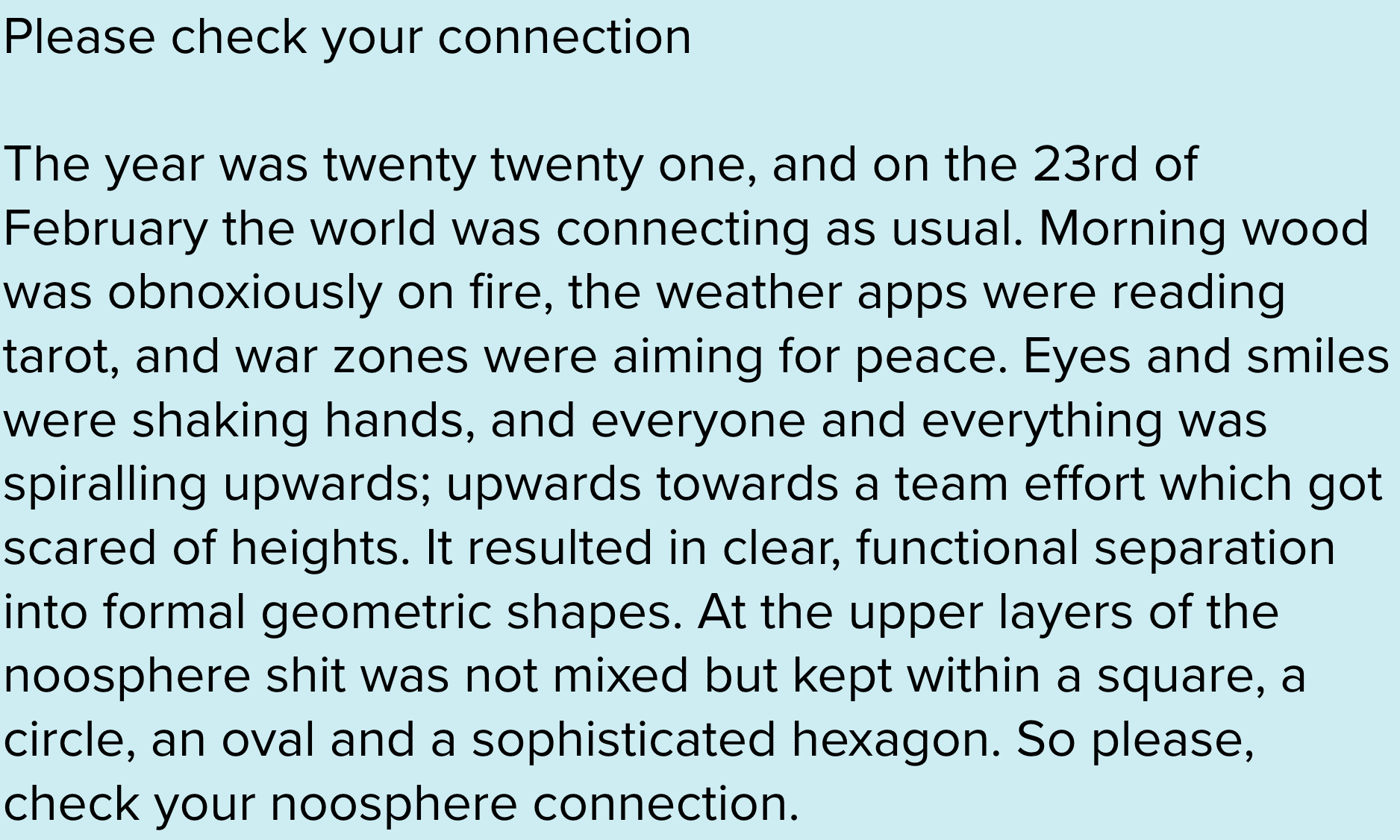 This aspect of collectivism was an incredible and fulfilling feeling for me. I love to share my knowledge, meet & discuss with new people, create with them, and most importantly, have fun with them. I always thought that it's me giving something from my side, but it is the other way around. It is surprising and unique what you receive back from people. Besides their feedback and comments, which are so important and insightful to improve and evolve as a practitioner, the most important thing is receiving their energy and creativity. These two things give me more strength and will to progress.